We help clients democratize data; getting teams on the same page about marketing performance, brand health and the art of the possible through data science.
Optimally this view is real-time, and not just historically based, so you can make agile and accurate business decisions like turning on a marketing channel, changing campaign creative, targeting, and messaging on the fly. 
Aggregating marketing data gives you a single source of truth that can be accessed by those who need it, when they need it. Having a real-time, centralized view also helps you anticipate issues, like gaps in content or problems with your conversion flow. Putting your data to work enables you to improve decision making in both accuracy and speed, the key factors in establishing ROI and monetization of data-driven marketing initiatives. It also requires developing sound foundational data architecture practices to consistently realize these benefits.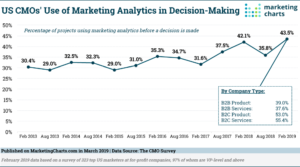 Bringing data together is just the first step, discover marketing value through data science
More companies than ever before suffer from being data rich and insight poor, otherwise known as D.R.I.P. Without developing insight and marketing strategy from your data, investments on storage and aggregation will never be realized.
At CE Strategy we're dedicated to the crucial step of identifying data insight and converting it into marketing strategy. To make this happen we've assembled a team of marketing strategists, economists, and data scientists along with a suite of leading edge tools.
Here is just a sample of the marketing strategies and data science techniques that we develop in collaboration with our clients:
You have data insight, now use it to impact your marketing strategy and generate ROI
At CE Strategy we pride ourselves on facilitating collaboration and that means getting relevant parties from IT, analytics, and data science in the same room with marketing stakeholders who are chomping at the bit to apply these insights for the next campaign. Next we identify the marketing KPIs we are trying to impact and then work backward with the data sources that make up these KPIs. Once that data is agreed upon and made available we apply the appropriate data science techniques to gain the insight required to modify or create marketing strategies that impact those KPIs.
With every engagement, whether it's modeling attribution, marketing mix, customer retention or something else, marketing ROI is our primary goal, and in many cases that means developing a test before a major roll out.