We partner with agencies to deliver data-driven insight to their existing clients and become more competitive in new business pitches by:

Mapping audiences, channels, and messaging to motivations and values of target customers and then optimizing both creative and targeting to improve emotional connections to brands, products, or services
Understanding what drives key customers — or competitors' customers — on a deeper level to buy and then develop more specific positioning recommendations
Deepening understanding of customer segments and surfacing the products and services that create more engaged and loyal customers
Providing deeper reporting on the reasons why a specific channel or offer is more or less effective in delivering the desired action or response
Creating custom analytical models to answer client-specific KPIs
Assisting in the development of data-driven strategies through analysis and modeling
Move Past Metrics… to ROI and Marketing Intelligence. Welcome to 3DV Analytics.
Improved Targeting and Enable 1 to 1 Communication Strategies
Use CESM and 3DV Analytics to develop segmentation strategies to target the right audience with the right message at the right time. We know more than who people are and their address. We know why they do it — and we use those insights to drive better results for our agency partners. We enhance your understanding of your client's audience with unique insights about their motivations, media consumption habits, behaviors and hundreds of other dimensions.
Reporting That Builds Relationships and Grows Business
Are you combining marketing data sets from online and offline sources along with client sales and CRM data to determine ROI? If not, 3DV Analytics is a powerful tool that enables you to put the right data in front of each client. Present the success and most importantly the ROI of your last campaign or bring to light the strategy for your next one. In addition, highlight opportunities for improvement and optimization in marketing channels or customer segments. Whatever data you need to present to your client, you can pull it together quickly and easily with 3DV Analytics.
Provide Constant Value to Clients and Look Good Doing It
Clients want reports that provide them with insight. That's why 3Dv Analytics reports are tailored to client specific KPIs and interactive. 3DV Analytics reports are visually appealing and can be branded with your logo. Artwork and video content can be layered into the reporting so clients can visually match the performance of ad sets, A/B testing or video content. Individual data visualizations or complete reports can be downloaded to .pdf or .gif.
Data Management Capabilities
We turn your client's customer data into a Data Management Platform (DMP) that delivers customer intelligence enabling audience and brand connections at the deepest possible levels.
DMP Integration allows you to:

Build audiences specifically for a one-off test or single-channel or multichannel campaign. Utilize first and third part data to illuminate unique motivations, values, brand preferences and purchase drivers.
Ship your existing audiences or customer data to CESM, and use 3DV Analytics to get a historical 360-degree view of your customers and prospects that incorporates demographic, psychographic and financial indicators.
Leverage 3DV Analytics to measure audience segment performance and ROI by marketing channel or campaign.
3DV Analytics Features That Agencies Love:
Dedicated Analytics Team
A dedicated analytics team at your fingertips.
An Experienced Staff
An experienced staff with marketing analytics domain knowledge that's dedicated to your success.
Connected Data Feeds
Connected data feeds that update reports in near real time.
Dozens of Widgets
Dozens of widgets to create the charts and tables you need from diverse data sources.
Build Your Brand
Logo placement within the platform to build your brand.

Room for Comments
Room for comments, so you can add insight to the platform.
Schedule Report Distribution
Scheduling of report distribution, so you can deliver relevant reports to the right people when they need it.
Native data connectors for plug-and-play digital advertising data: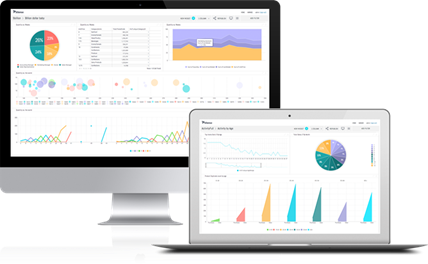 Web analytics from Google Analytics.
SEO metrics from Google Search Console (Webmaster Tools).
PPC tracking from Google AdWords.
Page and advertising insights from Facebook and Twitter.
CSV file support for uploading external data.
Plus, many more connectors to CRMs, sales, accounting, and marketing automation tools.
Want to learn more about our strategy and analytics services?
Contact us
If you're an organization or agency seeking data insight, ROI, or attribution coupled with business strategy, we are your solution.