ROCHESTER, N.Y. – July 12, 2022
Modern Workplace will be in Rochester's Signature Chapin Building
After a seven-year journey to relocate in downtown Rochester, the business intelligence (BI) and analytics consulting firm Cause + Effect Strategy (CE Strategy) is on its way to see its dream come true, 'coming home' to Rochester to grow the community and have a positive impact on the City.
By the end of summer, CE Strategy will be relocating to the historic Chapin Building at 205 St. Paul Street, taking up half of the fourth floor with 2,300 square feet of space. Built in 1885 for use in the garment industry, the building has maintained its significance to the City of Rochester's enterprise and culture. At the crossroads of the St. Paul corridor, the building acts as a connector to the rest of the city.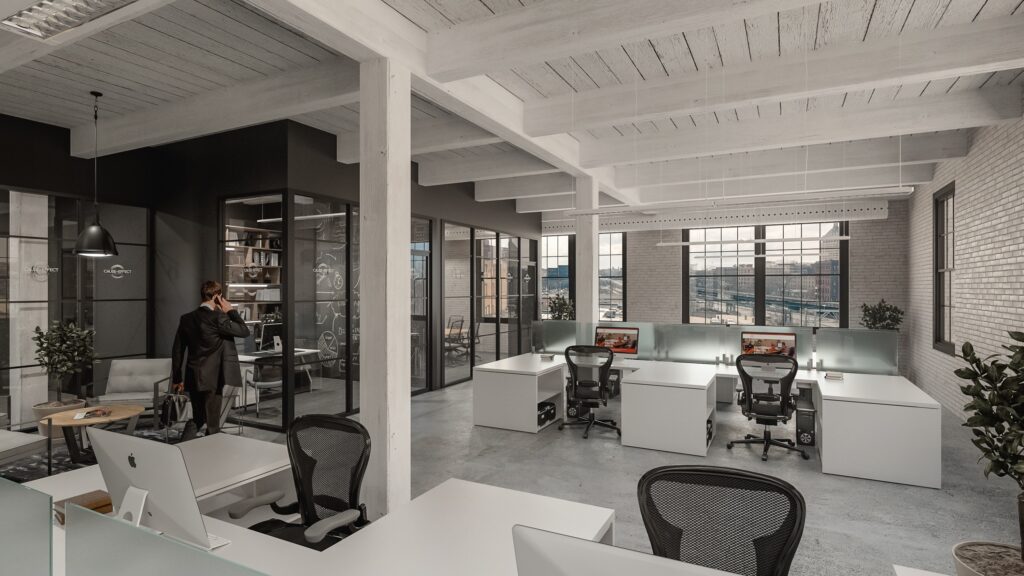 CE Strategy's novel workspace has been personalized by Hanlon Architects and West Construction to fulfill the vision of company President John Loury and partners Michael Sutton and Eric Webber.
"We want our space to be inspiring to our employees and clients, and reflect the vibrancy of Rochester. The large windows boast a fabulous cross-wise view of Rochester's most iconic landmarks including Kodak Tower, Frontier Field, and Genesee River."

John Loury, president of Cause + Effect Strategy
According to Loury, the new physical space and set-up aligns perfectly with the value and growth of their company, its consulting power, and is reflective of its clients' sophistication. "Our architectural design will also give us the flexible 'hoteling' workspace we need to create collaborative teams, productive workstations, and video conference rooms with high auditory privacy," continued Loury. "As we still will be offering some level of hybrid work, our employees' laptops will serve as their 'passports' whether in the office or not." John also insisted on the inclusion of a warm, full-size kitchen where people can find inspiration from views of the City and camaraderie while "breaking bread" together.
"As the city experiences and celebrates change," said Fred Rainaldi, developer and landlord, "we at the Chapin Building are also excited to usher in a new collection of businesses focused on improving the way they rely on office space, and support the communities in which they work. CE Strategy represents an alignment of values between landlord and tenant. We look forward to setting new standards and expectations for how Rochester supports business."
About Cause + Effect Strategy
CE Strategy is a business intelligence (BI) and analytics consulting firm that uses data to develop and track business strategies that accomplish client goals for retention and growth. CE Strategy does this by focusing on its core four services: the aggregation and visualization of data, insight through data science, development of business strategy, and continuous optimization.