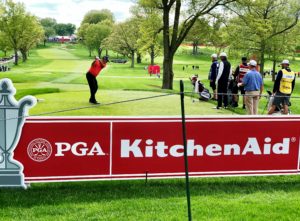 Rochester Business Journal – May 23, 2019
By: Kevin Oklobzija
The folks with the PGA of America know golf and know how to run tournaments. For 103 years, the organization has worked to grow the game while also providing a platform for great play.
But one thing the PGA of America doesn't do: pretend to know everything.
When their people bring one of the organization's elite events to town — be it the PGA Championship, Senior PGA Championship, Women's PGA Championship or Ryder Cup — they know they're the outsiders. They don't wing it when it comes to an institutional understanding of a community or claim to be market savvy. Oh, they know Rochester loves golf.
"This city looks at these championships as their birthright."

Bryan Karns, tournament director for this week's KitchenAid Senior PGA Championship at Oak Hill Country Club
Indeed, the PGA brought to Oak Hill the Ryder Cup in 1995, the PGA Championship in 2003 and the Senior PGA in 2008. But they still wanted help to market this year's event.
That's why the PGA contracted with marketing blueprint and data science specialist Cause + Effect Strategy and Marketing of Henrietta and then public relations and marketing giant Dixon Schwabl of Victor.
"We always engage with a local public relations firm," Karns said. "Cause + Effect put together a really nice playbook, and Ryann (Guglielmo, PR supervisor) and Nadine (General, vice president of agency nonprofit services) of Dixon and Schwabl have as much to do with our success as anyone.
"It's about a whole combination of things coming together."
First, Cause + Effect analyzed consumer data. Before they could map out a marketing strategy, they needed to know who bought golf tickets and where they lived.
"Data is the currency for ROI (return on investment). We bring the knowledge of how to leverage data and create a marketing strategy. You can't just say, 'for every dollar I spent, I made three dollars.' If you can't back that up, you're not going to keep clients very long."

John Loury, president of CESM
The company crunched data most consumers had no idea was even tracked, from purchase history to online browsing; from past visits to an event to warranty cards that were mailed to a manufacturer.
"It's insane to me how much you can know about someone," Karns said.
Cause + Effect learned the average ticket buyer to recent PGA events in Rochester was a 61-year-old white male. But because KitchenAid is the title sponsor, and celebrity chefs would be appearing at the course for demonstrations, the week-long event wouldn't be marketed only to golf fans.
The data showed they'd better be chasing foodies and wine connoisseurs, Loury said.
"Sixty-one percent of the ticket buyers also identified as foodies," he said.
Thus, some digital and social media ads didn't show one golf shot. They instead featured the logo and stand mixers and chefs. "There was no golf message," he said.
They also zeroed in on areas to target. The data showed television ads in Buffalo and Syracuse might not provide a great ROI, but there were certain ZIP codes in those communities that were very much worth attacking. And they also found a concentration of ticket-buying fans in the hamlet of Adams Center in Jefferson County, population around 1,550.
From the data came a game plan, from which the PGA could reasonably expect solid ROI instead of relying on a form of marketing or advertising because it worked in the past.
"We had a holiday push (around Christmas), and Bryan created value with the pricing, and then we provided a playbook of channels and marketing budgets," Loury said.
The PGA used its usual agency, Louisville, Ky. based Buzz Advertising, to handle media buying while Dixon Schwabl executed the PR push. Which was challenging at times, considering they were pushing tickets in the winter.
"The golf season here is short so we have to be really creative to keep the fans engaged," General said.
One idea they used: "We had a cooking contest in the winter," she said. "You're looking at Oak Hill completely covered in snow but it kept the hype and kept generating interest. We pride ourselves on being an extension of our clients' team."
That commitment also means you share in the pressure of meeting expectations. The KitchenAid Senior PGA won't ever compare to the regular PGA Championship. Still, this year's tournament had to out-perform the 2008 visit of the Senior event.
It's apparently mission accomplished, thanks to the contributions of Cause + Effect and Dixon Schwabl.
"They've made us look a whole lot better," Karns said. "This is one of the best all-time Senior PGAs, from corporate to volunteers to tickets. Every metric that we use, it's pretty much at the top."
(koklobzija@bridgetowermedia.com/(585) 653-4020)