Most marketers are familiar with the saying we're not saving lives. It's a phrase often used to deflate stressful situations. But for healthcare marketing agency, BPD Advertising (BPD), this adage does not apply. Their clients actually are saving lives, and the work the agency does directly impacts hospitals, private practices, medical clinics, and most importantly, patients nationwide.
"If someone doesn't buy Frosted Flakes, you know the brand takes a financial hit but it's not a life-or-death situation," says David Anastas, Director of Research & Insights at BPD. "If we're communicating poorly there are actually health issues that impact communities."
The agency drove success offering "tradigital" services—a mix between traditional marketing (print ads, brochures, billboards, commercials, etc.), and digital marketing (blogs, video, digital ads, web content, etc.)—but over the last decade, it became clear the digital function was the wave of the future and BPD needed a stronger, more comprehensive data analytics solution to provide the information clients needed to deliver campaigns with high impact.
Learn how BPD transitioned from a tradigital agency to a strategic, data-driven leader for the greater good with the help of CAUSE + EFFECT Strategy (CE Strategy).
Answering the Call of the Client
"In this world, in this field of marketing, the goal post moves," says Jason Brown, CEO, Chief Strategy Officer of BPD. "Clients want better, faster, cheaper and I understand why. We're here to give it to them." BPD believes healthcare brands should be the "most beloved brands" in the world. This means going above and beyond for each client the agency serves. For years, this meant creating innovative campaigns, breathtaking ads, and pushing the boundaries of what's possible to engage communities with the healthcare organizations that serve them. But, as the Digital Age began changing the marketing industry, BPD grew into a tradigital agency, balancing tried and true deliverables with new technologies to provide the best solution for clients—and it was working. The agency was growing and adapting to digital trends, and while clients were happy, they wanted more.
After sending out a poll, BPD discovered many clients were experiencing the pressures of marketing budgets. They needed to bring results and data to their leadership teams, which meant BPD was going to have to develop a more robust tracking and reporting platform within their offerings. This would allow the agency to give clients highly detailed reports on campaign performance, which would help them develop necessary insights to make smarter decisions to optimize ad spend and impact moving forward. "We began that journey, we partnered with some people, we built some things, we had successes, some failures and our clients were happy," Brown says. And they remained happy until the agency realized there was a common demand emerging with many of BPD's clients: they wanted even more, fast — and it needed to be streamlined.
"Our clients needed more real time, real-world data. We wanted to track results in real time and optimize our campaigns in real time in the most automated fashion possible." – David Anastas, Sr. Director of Research & Insights
Perfect Partnerships
BPD's relationship with clients was growing stronger all the time with the improvement of their data analytics. However, their relationship with data itself was still a little rocky. The team now had the ability to present clients with digestible campaign data, but with limited knowledge of programming and architecture in-house, the organization was still hazy on the direction they should be taking to scale. Anastas already knew he needed deeper technology expertise to plot the next steps in the agency's digital transformation journey when a known challenge with Google APIs impacted the data models underpinning their business intelligence tool, Sisense, increasing the urgency.
Anastas turned to their partner, CE Strategy, for guidance. The partnership began small. CE Strategy had initially helped Anastas white label Sisense dashboards and visualizations for BPD clients. At an intense time and facing a hard deadline, CE Strategy was able to resolve the immediate problem with custom SQL scripting and data manipulation.
"They helped when they didn't have to. They are in the most literal way a partner. When I needed them they were there," says Anastas. The ability of CE Strategy to provide timely and critical support earned them a seat at the table in a more strategic role to help BPD to truly master the data to deliver smarter and more profitable campaigns for its clients and gain a competitive advantage in the market.
"Thanks to our partnership with CE Strategy, we now have a better understanding of how our campaigns are running and can identify trends and patterns as they pertain to our campaigns—and we run a lot of digital campaigns." – David Anastas, Sr. Director of Research & Insights
Grow. Scale. Repeat.
Brown and his team are focused on providing the best possible experience for existing clients so when new ones do come aboard, they know they'll be getting world class service and a stellar experience. In many ways this mentality is how BPD has continued to grow into a leading healthcare agency. But with growth comes growing pains, and the agency has recently begun to experience these pangs within their data department.
With Sisense making it easy to visualize data, client demand for better, faster data reports increased. BPD needed to evolve at a pace equal to the vast amounts of information the agency was producing and analyzing with a strategy to increase its bench strength as a data driven organization.
To achieve this, and with trusted partner, CE Strategy as their guide, BPD took a step back from the visualizations to make a tactical and surgical examination of the foundation for their data analytics and identified two key factors that were holding them back from providing a differentiated analytics strategy and experience: data architecture, and data hygiene. With a keen understanding of the problem and the objectives, CE Strategy guided Anastas and the BPD team through steps needed to transform their data and architecture into a more structured, standardized, automated and scalable approach.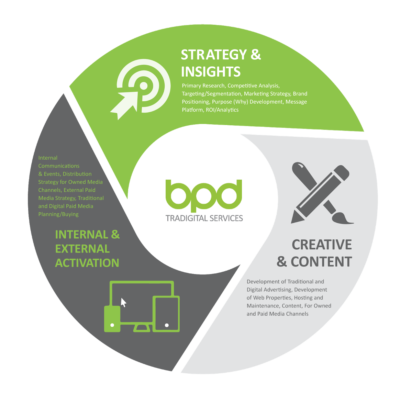 "BPD has an ambitious and forward-thinking vision for BI and analytics," says John Loury, President of CE Strategy. "Through our partnership we've relished in the opportunity to turn that vision into reality by collaborating strategically and tactically with their team, developing processes aligned with best practices, and optimizing technology where needed to further automate and scale their use of data both now and into the future."
With more and more data coming in as new clients partner with BPD, a cloud data warehouse would provide a single, elastic, centralized and secure repository of business-critical information. Connecting directly into data sources through a data warehouse solution would also
eliminate some of the data reliability challenges the agency had begun to experience by relying on disparate Google Sheets, and it would optimize Sisense performance. Knowing it would also lower overhead and provide additional protection for their expanding data volumes gave Anastas peace of mind.
CE Strategy helped Anastas choose Snowflake's cloud-native data warehouse platform as the best option for instant scaling. With a reputation for trouble-free maintenance Snowflake wouldn't require a whole IT team to manage. Ease of implementation and low cost of entry combined with Snowflake's flexibility and status as both a CE Strategy and Sisense partner were also contributing factors in the selection.
"It came down to a desire to have data in real time, to simplify our dashboards, to simplify our reporting to our clients so that it was easier to understand," Anastas says. "The data warehouse will allow more seamless connections, more data sources, and at a larger scale—and we won't have to worry and work as hard to complete data maintenance and control."
Where It Started and Where It's Growing
BPD first began its data analytics journey under the guise of ROI tracking and optimization, but throughout the implementation and growth of their solution, analytics have become far more than a tool to support clients' financial return—they're making the agency stronger, more effective, and ultimately the type of partners Brown has always wanted them to become. "The bigger vision to me always has been: can we have the insight to be better partners which means having real time results fed to us in real time," Brown says.
"Now, because of our partnership with CE Strategy, we have awesome partnerships with other organizations, like Sisense and Snowflake, and we've been able to build platforms together, enabling us to be more effective." – Jason Brown, CEO & Chief Strategy Officer
Anastas adds that with improved analytics, BPD has been able to more successfully understand how their tactics are driving communities and consumers to a specific action, and they're able to monitor campaign performance at any given time to either continue their path or pivot as needed. With partners like Sisense and CE Strategy helping BPD to generate solid, reliable marketing intelligence, and a go-forward strategy for adding continuous value to its clients, BPD wants the opportunity to tap into scrubbed versions of clients' CRM data to connect actual business results with campaign KPIs for a chance to really move the needle for their businesses.
"There is just so much further for us to go," Anastas says. "There's so much open to us and we'll be running full-steam ahead. Are we getting closer to the finish line? I don't think so. Rather, we're opening the door to another room that's far bigger than the one we're in."