Rochester Business Journal – June 16, 2017
By: Kerry Feltner
The phrase data-driven has become a well-known descriptor for companies in multiple industries. But how many companies are truly driven by data?
CAUSE + EFFECT Strategy and Marketing (CESM) relies on data to grow business daily, striving to help clients be more efficient with their marketing dollars.
"A lot of people are saying that they're being data-driven, but no one's job other than leadership is to look at those numbers," said John Loury, president. "To really do this requires not only a significant fiscal investment, but it is also a frame of mind. Being data-driven means that you're being on level par with the creative side; you're going to let numbers help to influence that creative."
As of the first quarter, the firm's revenues are up by 25 percent over last year. From 2015 to 2016, the firm had a 45 percent increase in total revenue.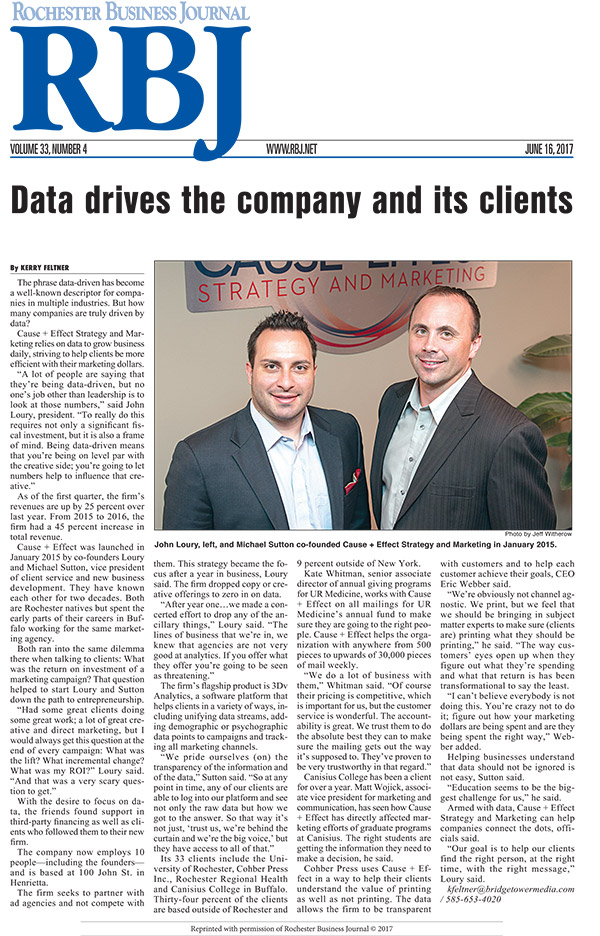 CESM was launched in January 2015 by co-founders Loury and Michael Sutton, vice president of client service and new business development. They have known each other for two decades. Both are Rochester natives but spent the early parts of their careers in Buffalo working for the same marketing agency.
Both ran into the same dilemma there when talking to clients: What was the return on investment of a marketing campaign? That question helped to start Loury and Sutton down the path to entrepreneurship.
"We had some great clients doing some great work; a lot of great creative and direct marketing, but I would always get this question at the end of every campaign: What was the lift? What incremental change? What was my ROI?" Loury said. "And that was a very scary question to get."
With the desire to focus on data, the friends found support in third-party financing as well as clients who followed them to their new firm.The company now employs 10 people—including the founders—and is based at 1000 John St. in Henrietta.
The firm seeks to partner with ad agencies and not compete with them. This strategy became the focus after a year in business, Loury said. The firm dropped copy or creative offerings to zero in on data."After year one…we made a concerted effort to drop any of the ancillary things," Loury said. "The lines of business that we're in, we knew that agencies are not very good at analytics. If you offer what they offer you're going to be seen as threatening."
The firm's flagship product is 3Dv Analytics, a software platform that helps clients in a variety of ways, including unifying data streams, adding demographic or psychographic data points to campaigns and tracking all marketing channels.
"We pride ourselves on the transparency of the information and of the data," Sutton said. "So at any point in time, any of our clients are able to log into our platform and see not only the raw data but how we got to the answer. So that way it's not just, 'trust us, we're behind the curtain and we're the big voice,' but they have access to all of that."
Its 33 clients include the University of Rochester, Cohber, Rochester Regional Health and Canisius College in Buffalo. Thirty-four percent of the clients are based outside of Rochester and 9 percent outside of New York.
Kate Whitman, senior associate director of annual giving programs for UR Medicine, works with CESM on all mailings for UR Medicine's annual fund to make sure they are going to the right people. CESM helps the organization with anywhere from 500 pieces to upwards of 30,000 pieces of mail weekly. "We do a lot of business with them," Whitman said. "Of course their pricing is competitive, which is important for us, but the customer service is wonderful. The accountability is great. We trust them to do the absolute best they can to make sure the mailing gets out the way it's supposed to. They've proven to be very trustworthy in that regard."
Canisius College has been a client for over a year. Matt Wojick, associate vice president for marketing and communication, has seen how CESM has directly affected marketing efforts of graduate programs at Canisius. The right students are getting the information they need to make a decision, he said.
Cohber uses CESM in a way to help their clients understand the value of printing as well as not printing. The data allows the firm to be transparent with customers and to help each customer achieve their goals, CEO Eric Webber said. "We're obviously not channel agnostic. We print, but we feel that we should be bringing in subject matter experts to make sure (clients are) printing what they should be printing," he said. "The way customers' eyes open up when they figure out what they're spending and what that return is has been transformational to say the least."I can't believe everybody is not doing this. You're crazy not to do it; figure out how your marketing dollars are being spent and are they being spent the right way," Webber added.
Helping businesses understand that data should not be ignored is not easy, Sutton said. "Education seems to be the biggest challenge for us," he said.
Armed with data, CESM can help companies connect the dots. "Our goal is to help our clients find the right person, at the right time, with the right message," Loury said.