Rochester Business Journal – March 4, 2019
By: Kevin Oklobzija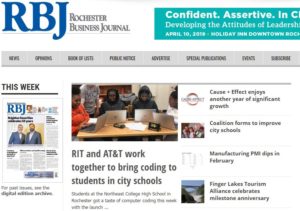 Cause + Effect Strategy and Marketing announced growth of 83 percent for 2018, another stellar year for the data insight and analytics firm.
Founded in 2015 by John Loury and Mike Sutton, the Henrietta-based agency added 10 clients, including Monro Inc., Saunders College of Business at Rochester Institute of Technology and the 2019 KitchenAid Senior PGA Championship.
That's two consecutive years of substantial business growth. In 2017, CESM increased business 72 percent.
"Our data-driven approach to marketing strategy and business intelligence can be a game-changer for our clients," Loury, the company president, said in a news release. "That, coupled with our team's consistent energy and commitment to our clients is what brings us continued growth year after year."
(koklobzija@bridgetowermedia.com/(585) 653-4020)